My first ever what I wore Wednesday post! WIWW came from a fantastic blog,
Reading, the pleated poppy blog
Accountability in actually getting dressed! While I apparently need that for how my clothes fit, it might also help motivate me to clean my bedroom as it looks messy from these pics!
So I did not start this until Friday morning, and did not remember every day to take a pic. I did get at least a few days in though!
This Sweater is one of my favorites - it is soft and warm. From Ann Taylor Loft
I always throw a long sleeve t underneath so i'm not so cold. Wal-Mart 'hanes' favorite t
Pants are comfy, a little stretchy, and have good pockets. The Limited

I had a conference on sat this week. So I threw on this smock (The Buckle) with a really thin pink sweater underneath (Bananna Republic hand-me-down). Instead of jeans that I would normally wear with this sweater, I have on another pair of The Limited stretch boot pants. Can I say - I think I don't like this sweater now after really seeing it! Hope it looks better with jeans; I feel like I look prego and I'm NOT!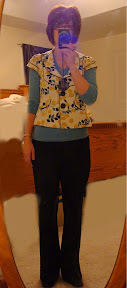 Monday, Monday
Limited "cassidy cut" pinstripe pants
Ann Taylor Loft teal 3/4 sleeve sweater
cute jacket/blazery thing from Target (too long ago, but I still love it!)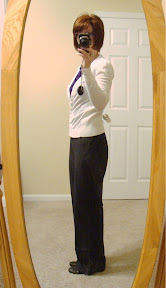 Okay, I used this angle because I looked monstrous in the head-on shots. I am starting to realize that I wear a lot of Ill-fitting clothes! These pants seem big in other views.
Anyway, white sweater is ruff hewn from a department store. Can't really tell from this angle, I have a purple tank with ruffles from meijer, and my terrible pants are from JcPenny.
Pink stripe shirt and pink blazer are from the Gap
Brown pinstripe pants are the Limited, but a slightly different cut (drew I think)
Linking to pleated poppy blog (or trying - still learning how this stuff works)
-Sew Sane Jane
(Posted using BlogPress from my iPad)