WIWW = What I wore Wednesday. Which is not only what I wore on Wednesday but what I wore this week that I write about on Wednesday.
At least check out my friday outfit - I felt fashionable that day!!
Quick one this week - almost
Apparently I was sucking in a bit much in this photo - haha. Sweater from The Limited. sea green tank that you cannot see in this pic from there too. Pants were brown corduroy from the Limited as well actually. I'm like an ad.
I WAS ALMOST FASHIONABLE!!
Dress up Friday again apparently
Yea me! First time EVER going out of the house in leggings (mind you they were mostly covered by my favorite dress ever - Theory brand that I bought at Bloomingdale's - it is cute, comfy, and has pockets! a black 3/4 sweater from Ann Taylor Loft, and my tall boots that I have had for ages - Franco Sarto I think - Belt worn high up is from The Limited. I felt so fashionable.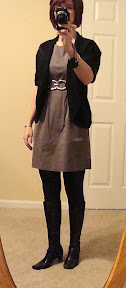 So I must confess a secret. I was worried about being cold so I decided that instead of tights I would wear leggings - but I don't own any - so I wore my running tights (under armor) as leggings - It worked great - I was as warm as could be!!!

Errands over the weekend. This was Sat. Sunday I played in a tennis match - didn't remember to take a pic before I got all bundled up.
Monday - I got a new shirt while I was shopping over the weekend. Ann Taylor Loft - on sale. Great for dress up or dress down I think.
Tues: Loft pants, newish sweater from TJ Maxx (I mostly like this sweater - it has a cute zipper up 1/2 the back - sometimes I think it might be too short)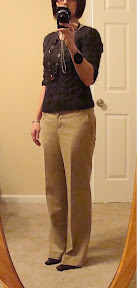 Wednesay: ruffle shirt and eggplant sweater from the Loft. Pants are old and from Old Navy - but they seriously have held up well!!
Thanks to
Who I am linking up with here for the inspiration.
-Sew Sane Jane
(Posted using BlogPress from my iPad)