Linking with
for What I Wore Wednesday (which is a show & tell of what I wore all week since last Wednesday).
Forgot to take thursday pics - darn
Friday:
Had to actually go back to work - snow was off the roads and the temperature was back up a little.

Tan pants are from Ann Taylor (they are thin-weight but with a lining and quite comfy) like them except that there are no front pockets - grrr! my striped short-sleeve shirt is a hand-me-down from one of my sisters I have no idea where it is from. The sweater blazer is from a local department store (a couple of years ago) and is starting to shrink - must be time to let it go - darn.
Necklace another Lia Sophia cutie.
I had a dinner later with my family and threw on a pair of jeans with the same tops - forgot to take a pic though
Saturday:
In the morning I went to a friends house to set up our Etsy account - Yea (my plug is that our store is called MillieSews)! So I had on a relaxed outfit.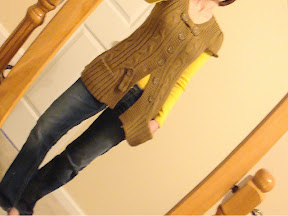 Jeans were from The Buckle (BKE) and are some of my favorite "butt" jeans as my hubby calls them (as opposed to the Eddie Bauer ones that make me look Flat!). My yellow sweater is from Ann Taylor Loft and the brown over sweater is from The Buckle (my hubby picked it out on his own last year for my b-day).
I then went to an engagement party Sat evening so I changed.
I switched to another pair of Buckle jeans (just a tad longer as I was wearing my boots), Pinkish/purplish silk top w/ beads from The Limited. Black sweater from Ann Taylor Loft. No necklace since the silk top had the beading, but I did put my black beaded necklace on my wrist - I thought that turned out okay.
Sunday:
I went to a SuperBowl party at a friends house - so I went pretty relaxed.
Please Excuse the slippers - our house is cold and I hadn't changed into my shoes yet. Turtleneck sweater is Calvin Klein from a department store and I had on an Old Navy yellow long sleeve t underneath. Had on a pair of Ann Taylor Loft jeans.
My necklace is one of my fav. Lia Sophia ones that I own! I tried to take a closeup pic, but as you can tell from the dark picture, my camera and I were not getting along! Not sure what the deal was.
Monday:
Back to work I went. I couldn't decide which jacket to wear - which one looks better?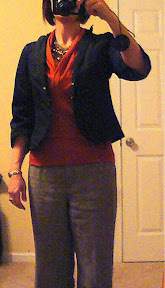 I had on Ann Taylor pants, my orange top (short sleeve) is The Limited, necklace - why Lia Sophia of course!
3/4 sleeve jacket is Target and full jacket from The Limited.
Tuesday:
Had been thinking about my green cardigan since I forgot to wear it last week. It is from Ann Taylor. Cute ruffle collar white top is from The Limited, and pants are my tried and true Limited stretch trousers.
Wednesday:

A brown-looks fairly black in these pics- suit from The Limited. Colorful sleeveless blouse under is DKNY from about a year ago from a department store.
Another week down, another reason to go cute cute and more fashionable clothes!