So after I bought enough fabric for half a lifetime, my hubby finally got mad. I haven't bought new fabric for nearly 6 months. My logic is that if I use up most of what I have here - he can't use most of his arguments for why it is silly to buy MORE. (don't tell - I am hosting
a (2) yard fabric swap
and just signed up for a (
3) yard fabric swap
- but really I haven't bought any other fabric recently.) Part of the time I was working on Christmas goodies - for any fabric goodies I used fabric I had laying around. While I was still on Winter break from work, I was hard at work quilting.
I finally got around to using some of the fabric sets I had been hoarding for over a year or so. This quilt is one of the fabrics that I bought at LEAST a year ago. I loved the fabric so much I could not get myself to use it - silly huh?!? I decided to finally make it into a quilt - figuring I could swoon over the fabric more if it was always sitting out in quilt form.
The fabric line is an older
Sweetwater
for
Moda
line called, "Make Life." I had seen
this quilt tutorial
on Moda and fell in love with the line. I bought the requirements for the quilt - all except for the iron-on patches which no one sells anymore.
When I finally got around to using the fabric, I had found
this post
by Holly DeGroot over at
BijouLovely
While I didn't follow the tutorial completely, I was Completely inspired by her fantastic appliqué idea that I used the same concept when creating this one.
I'm into piece-y backs at the moment, so I used a big square of fabric that I had left and pieced an asymmetrical boarder to complete the back.
I clearly have some work to do yet - like layering, basting, quilting, and binding, but thought I would share with you my work up to this point. I threw the top and bottom together in 1 day/night if you can believe it. I was just going to cut and appliqué a few to see what I thought, but it became addicting and did it all day instead!
Linking up with
and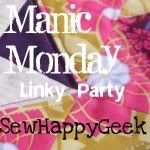 ________________________________________________________________________________