So Erin from
Two More Seconds
started this fantastic "mug rug maddness" week that I have been enjoying for the past week. I have loved the idea of these cute mini quilts (cross between placemat and coaster) for awhile, I had previously only made 1.
I took Erin's dedication of this week to go mug rug crazy! In a previous post I wrote about making this cutie
Didn't stop there though. This only got my creativeness flowing and thought I would use up the rest of my Sunkissed (Moda line by sweetwater-in case you have been living under a rock and haven't heard of it)
Thought I would try a "wonky" square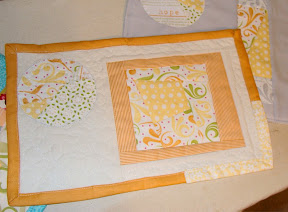 Then added just a touch of dimension on the back
Please don't laugh at my quilting, this was also my first attempt at stippling (which quickly turned into swirly circles as this was MUCH more difficult that I thought!)
Then I quilted (stitched the ditch since I knew I could do that) and put a binding on the scrappy mug rug I had sort of started 8 months ago.
Loving it! Motivation s great. Have a few new inspirational ideas from this week and began one tonight.
Will post again soon to show you my fantastic goodies I got in the mail from my giveaway win last week. SOOOO excited about it!
Side note: I think I need a new camera, or at least to stop taking pics it is dark out - they look terrible!