What I Wore Wednesday Week 2. Last week I started participating in The Pleated Poppy's WIWW posting.
I decided to participate not because I do not get dressed each day (I do most days - but apparently its been a rough week for me) but to keep me motivated to try new combinations and apparently, update my wardrobe. Even after only 1 week, I realized that some of my fav outfits should NOT be my favorite outfits!! So, here goes week 2.
Thursday: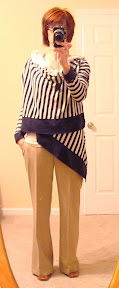 I got this sweater/wrap about a year ago at BCBG. It was not the cheapest item that I have ever bought, but I rationalized that I could wear it in several different ways making it look like different tops. I have found that I mostly wear it wrapped in the front, but when I am having a day, I sometimes just leave one side swaged around one shoulder and let the other hang.
I like my necklace too - it is a Lia Sophia that I just got in December.
My ruffle cream top underneath is from Ann Taylor Loft, and my pants are also from there.
Friday: Apparently it was suit day. I know, backwards right - Fridays are supposed to be casual. Except, Fridays I only have 2 classes which means I am standing and moving on my feet less. I have to wear cute, but tall shoes with these pants so I prefer to wear them on shorter teaching days.
Suit is from White House | Black Market

Honestly, I don't usually have it buttoned. I am much more likely so have the jacket unbuttoned so you can see my cute purple ruffle top (not the same as last weeks) that is from The Limited.
And my cute shoes that hurt my feet:
Sat: errands, cleaning, sewing day so I wanted to be relaxed.
Top from The Gap (probably 2 or 3 years ago, but I still love it). Trouser jeans from Eddie Bauer. Another cute necklace from Lia Sophia (I hosted a party in December and got lots of cute items!)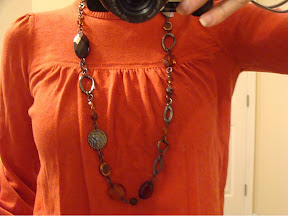 Sun: I don't think I did anything besides running to the local store - and I went looking like crap! I couldn't even get myself to take a pic!
Mon: ooops, I forgot my layers this day.
I meant to put a green Ann Taylor cardi over this, but was running late and never did. My striped shirt (shades of green and tiny pink stripes from New York and Co). My pants are my fav stretch bootcut pants from The Limited. My shoes are some of my most comfy, they have a wedge kitten heel so they are amazingly comfy to wear for my long teaching day. Necklace from Lia Sophia again.
Tues and Wed: I have been snowed in my house and have not left since Monday evening. So I have not been out of my pjs. I hope to sometime today, Wed, but we'll see. I understood before, but even more now, about not really being motivated to get dressed when no one but immediate family members are going to see me. I don't get how most of you gain that motivation! I it sooo comfy and warm in my pjs.
-Sew Sane Jane
(Posted using BlogPress from my iPad)