So I don't have any little humans running around me house, but I do have lots of friends whose rug-rats entertain us! I am often looking for ideas of cute little gifts to make them (either as shower gifts or even just because gifts).
One of my friends had mentioned how she was going to take monthly pics of her cutie and was trying to figure out how to get age in the pic as a prop (other than a piece of paper with it hand-written)..... INSPIRATION.
A fellow sewing friend said, once with numbers - so I took that idea and decided a bib might work better.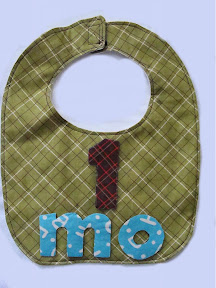 I didn't really want to make like 4+ bibs so.... Removable numbers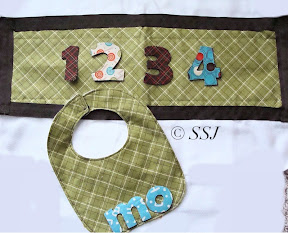 Had a bit of leftover green fabric so I also added a strip of it to a cloth diaper and finished with grograin ribbon (that is what the rectangle of green is in the background).
I always like live models better in pics, but i only have doggies and figured that it just wouldn't look as cute around a dogs neck :)
-Sew Sane Jane
(Posted using BlogPress from my iPad)