After I got done working on projects today, I realized I had apparently had a theme - black.
I got myself to finish this binder cover that I started at Christmas at my sister's request. It is for a 1/2size 1" binder that she uses as a planner. She asked for a zippered one, but she is getting a magnetic one instead!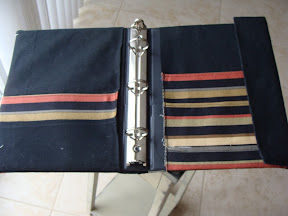 Then, I decided to pull out some fabric scraps from a previous quilt and make another pillow. I got the ideas from this blog. I sewed a few leftover stirs of varying sizes, cut out the circle, and appliquéd it to some plain black fabric for a pillow sham. The sewed on the binding (my first machine sewn binding in fact.
I thought it turned out great and it was a very simple project.
Since I already had that fabric out, I also made a quick cute pot holder out of the same materials. This is one side,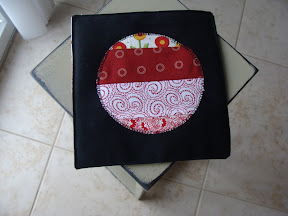 And this the other.
These will be great for throwing in the bottom of my cake carriers when I put pies in them to transport (having the fabric underneath helps prevent sliding - and I always have ugly ones till now!
-Sew Sane Jane
(Posted using BlogPress from my iPad)